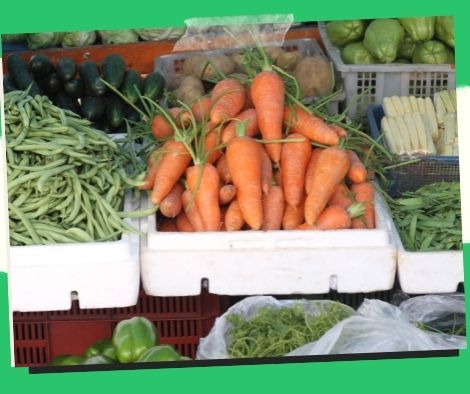 Farmers in Mindoro appeal to IPs to join the DA vegetable production program
Cebuano
English
Filipino
Farmers in this community who have benefited from the Department of Agriculture's Special Area for Agricultural Development (DA-SAAD) program are urging the Indigenous Peoples (IPs) community to participate in the project so they can put food on the table and earn additional income for their families.
"IP farmers without their own land may use the available lot to increase the association's production and profit at the same time," Nelly Alcantara, chairperson of Mabunga Vegetable Vendors Association (MVVA), said in an interview on Wednesday.
According to Alcantara, MVVA farmers not only provide food for their families but also share their harvests with the local members of the IP community.
She claimed that since last year, the MVVA has benefited from the DA-SAAD initiative, and she mentioned that for the second cycle of production, which ran from May to November, a total of 8,631 kilos of varied vegetables were collected.
The farmers provided wholesome food for their families and made a net revenue of PHP355,340 during that time, she continued.
Alcantara said that the crew was able to gather 250 kilos of squash, 360 kilos of string beans, 111 kilos of tomatoes, 6600 kilos of eggplant, 735 kilos of chili, and 575 kilos of bitter gourd (ampalaya) (kalabasa).
32 members of MVVA make they're living mostly from growing vegetables. Eight members own production lands, while the other members chip in by working in planting, harvesting, and marketing.
The SAAD program's Vegetable Production Project FY 2021, which aims to increase community access to and production of vegetables, includes the farmer's association as one of its recipients.
By using a percentage of their crop, or 2,510 kilos of various vegetables, for the food intake of their families and farm workers, the group has been able to save up to PHP137,300 through the project on food and labor costs.
Alcantara creates a space for learning for the farmers by giving informal lectures on farming based on her field expertise, such as optimal crop positioning to stop pollen transmission and crop rotation to look after the soil and diversify vegetable crops.
She claimed that as she extends her plantation using the produce of her previous year's vegetable harvest, she planned to lend a portion of her land to farmers who do not own land of their own.
Integrated agriculture
The company now manufactures seeds, insecticides, and fertilizers using the money it receives from the MVVA in order to progressively grow its plantation and maintain a high volume of vegetables and other high-value products.
Prior to the SAAD program's assistance, the group, according to Alcantara, only farmed a two-hectare (ha) consolidated section of their land since they could not afford to pay for higher production costs.
Alcantara noted that in the past, "Noon, tama na 'yung isang tudling na pagtataniman namin dahil wala kaming pambili ng mga binhi (Before, we had to make due with a small section of land in which to plant since we had no money for seeds)".
The group got inputs and agricultural machinery through the SAAD program, working closely with the Municipal Agriculture Office of Abra de Ilog, allowing them to cover an additional three fields of production for higher output.
"Ang naani namin dati kakaunti lang. However, as of late, we have only been able to harvest a small number of veggies. But now, we have substantially improved)," Alcantara added.
In order to boost their harvest, the group plans to triple their current production area or add up to 15 has.
As part of their crop rotation approach, numerous members are currently working to produce watermelons and onions as they prepare ready for the 2023 vegetable growing season.
This involves arranging their crop rotation for a healthier yield and buying vegetable seeds.
Animal agriculture
To supplement its vegetable output, the group also obtained a swine production project worth PHP992,000 in November of last year on the advise of Myer Mula, a former director of the National SAAD program.
The project consists of 20 gilt heads, 10 bags of hog grower feed, 160 bags of hog breeder feed, and one boar.
This integrated farming method lowers operating expenses for swine farming by using rejected vegetables as animal food and decreasing production waste.
Four of the eleven pregnant piglets are anticipated to give birth in the first week of April.
The group will be experimenting with composting pig manure to be utilized as organic fertilizer for their vegetable crop, according to Alcantara.
In February, the association hopes to begin its production cycle. Vegetable seeds are currently germinating, and trellises are being built.
In Sitio Bungahan, Barangay Cabacao, MVVA is located. Its members are farmers of mixed heritage, including Tagalog, Ilocano, and some IPs. They concentrate on growing high-value crops such the "pinakbet" vegetables ampalaya, talong, upo, sitaw, sili, and kamatis.
Inputs for a project to produce vegetables worth PHP950,000 were provided to the company when it joined the SAAD program in 2021.
Cebuano
English
Filipino
***
We appreciate your reading. You may also consider sharing it with others.
Please comment below if you found this post interesting.
Be one of our
DONOR
/
SPONSOR
to support NextGenDay news website.
***
Please follow and like us: