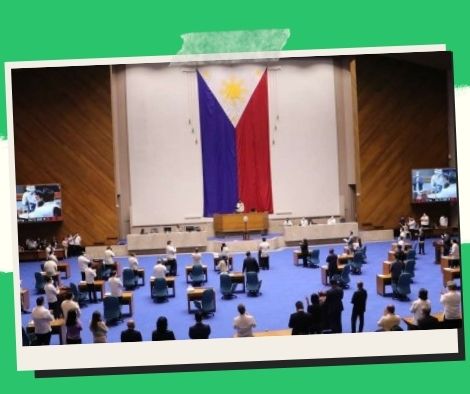 The bill to excuse outstanding agricultural and agrarian loan fees is approved.
Cebuano
English
Filipino
On its third and final reading, the House of Representatives on Tuesday approved a bill that excuses farmers, fishermen, and other beneficiaries of the agrarian reform from paying back overdue interest, penalties, and surcharges on government-issued loans.
With 271 votes, no opposition, and no abstentions, House Bill 5702, also known as the "Agrarian and Agricultural Loan Restructuring and Condonation Act," was approved.
The legislation requires one-time forgiveness of unpaid interest, penalties, and surcharges on agricultural and agrarian loans taken out by farmers, fishers, and beneficiaries of agrarian reform from the Department of Agrarian Reform (DAR), Department of Agriculture (DA), People's Credit and Finance Corporation (PCFC), Cooperative Development Authority (CDA), National Food Authority (NFA), and the Quedan and Rural Credit Guarantee Corporation (QUEDANCOR) before the implementation of the legislation.
Cooperatives registered with the CDA and groups representing farmers and beneficiaries of agricultural reform that have obtained loans from the six agencies are also protected.
Those who met the requirements would have to submit a condonation application to the organizations from which they had received their loans.
The law stipulates that the grounds for the condonation shall be limited to circumstances involving force majeure or market aberration, and shall in no event be applied to cases originating from a borrower's wilful failure to make loan payments.
According to the law, force majeure is defined as "events, whether natural or political, beyond a borrower's reasonable control, which has a major detrimental influence on the borrower's ability to satisfy an obligation."
Market aberrations, on the other hand, are "unexpected adverse changes in market prices that have deleterious consequences on the production and income of farmers, fisherfolk, and agrarian reform beneficiaries."
If farmers, fishermen, and beneficiaries of agrarian reform have made three consecutive payments on their reformed borrowings, the loans would be restructured after interest, penalties, and surcharges were excused, and their good credit standing would be restored.
The House passed HB 5702, which was praised by Speaker Ferdinand Martin G. Romualdez. He claimed that once it became law, the bill would help hundreds of thousands, if not millions, of farmers and fishermen.
"By seeking to write off millions in interest, penalties, and surcharges on their loans, the proposed bill alleviates a significant financial burden on their part. For our farmers and fishermen, the pardon will be a huge relief, he remarked.
Then he continued, "It would offer those covered a clean credit record that could enable them to once again use government loans for production and other farming needs."
The beneficiaries of the initial government agrarian reform program, which the late President Ferdinand E. Marcos Sr. began through Presidential Decree No. 27, are among those who are covered by HB 5702, Romualdez noted.
"Decreeing the emancipation of tenants from the bondage of the soil, transferring the ownership of the land they cultivate and providing the means and mechanism thereof" is the title of PD 27, which was published on October 21, 1972.
Romualdez claimed that the "mother" of all agrarian reform initiatives introduced since the first Marcos administration was the Tenant Emancipation Decree of President Ferdinand Marcos Sr.
ARBs are fully covered by insurance
The House also passed HB 6680 on its third and final reading with a resounding 271 votes, requiring complete insurance coverage for qualified ARBs of the Comprehensive Agrarian Reform Program (CARP) to provide aid and relief in situations of natural disasters, pest infestations, or even death.
If passed into law, Romualdez stated, "this proposal is intended to assist farmers in recovering from the negative impacts of situations which are beyond their control, such as natural calamities, the infestation of plant diseases and pests, or even death and injury of the beneficiary."
He continued, "This is a part of our legislative commitment to secure food security by assisting the hands that feed the nation – our farmers – and ensuring they recover from any incident that may damage their capacity to produce the food we have on our tables.
Republic Act 6657, sometimes known as the "Comprehensive Agrarian Reform Law of 1988," as revised by RA 9700, is modified by HB 6680.
It aims to give ARBs fast access to funds in the event of natural disasters in order to lessen their losses and to lessen the effects of these occurrences by giving these farmers complete insurance coverage.
All eligible agrarian reform beneficiaries who are actively cultivating the land are provided with full insurance coverage under the law for losses that are deemed compensable.
The qualified ARBs are those listed in Section 3(b) of Republic Act 10000, also known as the "Agri-Agra Reform Credit Act of 2009," which was also defined by HB 6680.
The following are examples of losses that are compensable: natural disasters like typhoons, floods, droughts, earthquakes, volcanic eruptions, frost, and other destructive natural phenomena like heat and hot wind; plant diseases brought on by pathogens, bacteria, fungi, viruses, and other similar foreign bodies; pest infestations brought on by nematodes, insects, mites, and spiders, millipedes, and centipedes, symphylans
The following agricultural products are covered by the measure for insurance purposes: palay, corn, sugarcane, high-value crops, coconuts, tobacco, fisheries farm crops or stocks, livestock, and non-crop agricultural assets employed in actual farming and reported to and verified by the DAR.
Additionally, the law imposes sanctions for farmer recipients who abuse or divert the financial aid provided by the law, including confiscation of the land that was given to them, without prejudicing legal action.
The legislation requires the Secretaries of the DA and the DAR to incorporate the operationalization of the insurance coverage in their respective programs once it is enacted into law.
***
We appreciate your reading. 😊Simple Ways To Say Thanks & Support Us:
1.) ❤️Give a Tip. If you would like to make a small donation to support us, please give a tip thru PayPal at
https://paypal.me/SocialBoostVA
😊❤️
Subscribers in the Philippines can make donations to mobile number 0917 906 3081, by using the GCash website or GCash mobile application.
2.) Be one of our
SPONSOR
. We can published your promotions, PR stories/news articles with contact details as an additional exposure of your company products and services.
3.) 👍 Give this news article a Thumbs Up, Leave a Comment (at Least Five Words), and Share!
***
Cebuano
English
Filipino
Please follow and like us: