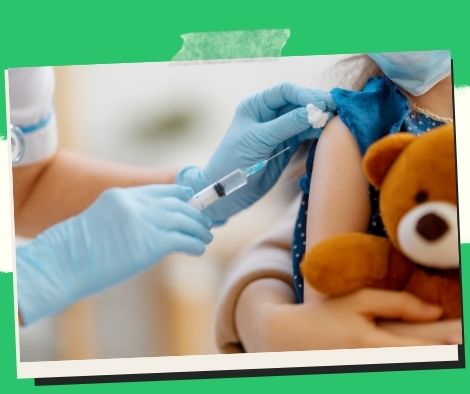 Parents in Baguio are urged to enroll their children in daycare centers.
Cebuano
English
Filipino
On Tuesday, the local administration asked parents who were enrolling their kids in government-run daycare facilities to allow them to receive the minimal immunizations that are required by law.
In a telephone interview on Tuesday, councilor Betty Lourdes Tabanda warned parents that when enrolling their children in daycare facilities, they would need to produce the immunization record of their children.
According to Tabanda, the chair of the City Council's committee on health and sanitation, "the submission of the vaccination record is mandatory and will be among the documentation required to be submitted upon the enrolment of the daycare pupil."
In the event that the parent or guardian neglects to submit the vaccination record, they will be directed to the city's Health Services Office (HSO) for counseling, during which the prospect of consenting to vaccination will be explored.
She did, however, make it clear that children who cannot receive an immunization for medical or religious reasons as determined by a doctor are excluded.
Child development center staff members assist the city HSO by acting as a conduit to refer parents or guardians of unvaccinated students or those lacking the fundamental immunizations for developing children up to five years old to the HSO for counseling and potential vaccination.
The required vaccines, which have been shown to be successful in preventing diseases, must be strongly encouraged to parents in the city, according to Tabanda.
The Department of Health – Cordillera Administrative Region (DOH-CAR) has previously said that their central office had flagged the region for having poor vaccination rates for diseases that can be prevented by vaccination.
Only 19,295 children, or 50.54 percent, are "totally immunized" as of November 2022, according to DOH-CAR records, while 1,197 children, or 3.14 percent, are "completely immunized."
A fully immunized kid is defined by the World Health Organization (WHO) as the percentage of newborns who are exactly 12 months old and have received all of the following antigens/vaccines: BCG at birth, HPBx3, DPTx3, OPVx3, and MSL at nine months.
Vaccine-preventable illnesses like TB, diphtheria, tetanus, and pertussis (DPT), poliomyelitis, measles, mumps, rubella or German measles, hepatitis-B, and influenza type B are all included in the required basic immunization.
Children who are fully immunized are those who are 13 months to 23 months old but who did not receive the vaccination when they were younger than 12 months.
According to Tabanda, childhood immunization protects not only the vaccinated but also those nearby, particularly vulnerable groups.
"Vaccination strengthens the baby's or child's immune system and significantly lessens the severity of the illness. It shields the body against severe problems that can be fatal or crippling, she said.
The councilor stated that even with the government's free, basic immunization program, there may still be infants and kids who haven't had their injections.
"Let's begin by enrolling our kids in child development centers. Later, we can focus on immunizing additional children in the city, she said.
Measles was the most common vaccine-preventable disease in the city from 2017 to 2021, according to the HSO record, with 912 occurrences. Hand, foot, and mouth disease came in second with 398 cases, pertussis came in third with 18, and diphtheria came in fourth with four instances.
Due to the coronavirus disease 2019 pandemic, the city's rating for properly inoculated children in 2020 was just 44%, which explains the high number of measles cases from 2020 forward.
***
We appreciate your reading. 😊Simple Ways To Say Thanks & Support Us:
1.) ❤️Give a Tip. If you would like to make a small donation to support us, please give a tip thru PayPal at
https://paypal.me/SocialBoostVA
😊❤️
Subscribers in the Philippines can make donations to mobile number 0917 906 3081, by using the GCash website or GCash mobile application.
2.) Be one of our
SPONSOR
. We can published your promotions, PR stories/news articles with contact details as an additional exposure of your company products and services.
3.) 👍 Give this news article a Thumbs Up, Leave a Comment (at Least Five Words), and Share!
***
Cebuano
English
Filipino
Please follow and like us: