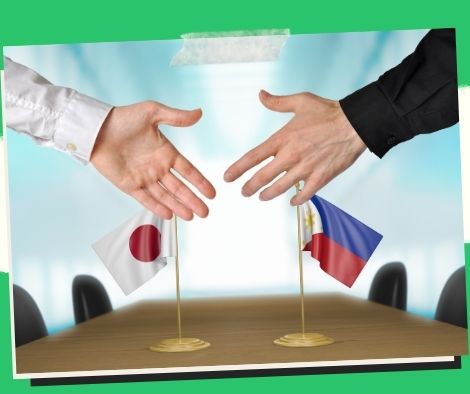 Government to evaluate trilateral pact with the US and Japan: Marcos
Cebuano
English
Filipino
The United States and Japan, two of the Philippines' closest friends, have suggested a trilateral security and defense agreement, which the Philippines will evaluate.
Fostering ties with its long-standing partners was one of "many other problems" discussed by the Philippine team in Tokyo, according to President Ferdinand R. Marcos Jr. in an interview with Kyodo News on Friday.
"When I get back to the Philippines, we'll definitely be researching this,' he said. I believe it's simply a matter of continuing the process of fortifying our alliances because of the somewhat perplexing and, dare I say, dangerous situation we currently find ourselves in. I'm not just referring to the Indo-Pacific region or the South China Sea; I also mean that there is still a conflict in Ukraine, and its effects on the rest of the world are, of course, quite unsettling, said Marcos.
As part of a "continuous process to build more strong ties and alliances that we are beginning to put together in our areas," Marcos continued, this is a step in that process.
Accordingly, he believed it was a key component to "creating some type of stability in the face of all these crises that we are seeing around us."
Prior to this, Marcos and Japanese Prime Minister Fumio Kishida reached an understanding to improve defense and security ties between their two nations.
The two Asian heads of state decided to "improve the defense capabilities of their respective countries, and further strengthen overall security cooperation," according to a joint statement.
This will be accomplished through strategic port calls and aircraft visits between the two countries, the transfer of new defense technology and equipment, ongoing cooperation on previously transferred defense equipment, and the development of capability.
Earlier, MPs demanded that the proposed trilateral military and security agreement be reviewed and then ratified, as required by the Constitution, first by the Senate.
The Defense and Security committee chair, Sen. Jinggoy Estrada, admitted that the planned trilateral alliance is based on cooperative relationships.
He did, however, make the point that the government must first fulfill its obligation to safeguard and advance the national interest of the nation.
Sen. Francis Tolentino, deputy chair of the Foreign Relations Committee, stated that while acknowledging the president's responsibility in establishing the nation's security and foreign policy agenda, the Senate should be given the chance to fine-tune the dynamics of such a system.
In a statement, he said, "While this is not a SEATO [Southeast Asia Treaty Organization]-like structure, I support its genesis." He was alluding to the organization's dissolution in 1977 as a result of member withdrawals and waning interest, which was founded in 1955 to thwart communist gains in the region.
Business transactions
Alfredo Pascual, secretary of the Department of Trade and Industry (DTI), provided assurance that a number of agreements on investments between the Philippines and Japan are "ready to go."
This comes after the governments and corporate representatives of the Philippines and Japan inked 35 significant agreements on Friday.
"Some are prepared to go, may mga iba. Some are registered at the BOI [Board of Investments] that were documented to satisfy the investments, according to Pascual, who revealed this in an interview.
"And then there are those who plot… According to the Japanese investors I've spoken to, the time horizon can last up to three years. Big investments are typically made within that time span, he continued.
Pascual mentioned that Toyota, a Japanese automaker, promised to reintroduce its well-liked Tamaraw model to the Philippine market.
"That one is moving along nicely… The final planning to make the investments have likely already begun, according to Pascual.
Toyota expressed its "honor" at the chance to deepen its relationship with the Philippines.
The DTI reports that 3,472 businesspeople from 3,240 Philippine and 1,300 Japanese companies registered for the meetings conducted in Tokyo, where a wide spectrum of collaboration between the governments and business leaders of the Philippines and Japan was signed.
Vow to invest $600 million
Meanwhile, it was made public on Sunday that business mogul Manny V. Pangilinan and significant Japanese investor Mitsui & Co. had inked a contract for an infrastructure project of USD600 million.
Following a dinner meeting with Marcos on Wednesday, Pangilinan declared, "We signed a deal with Mitsui and many partners and management to commit to spending USD600 million in the infrastructure."
For its part, Mitsui & Co. declared that it would keep looking into the prospect of expanding its partnership with the Philippines in commercial sectors including food and agriculture, renewable energy, and digital transformation that are of interest to both parties.
Marcos also expressed gratitude to Japanese companies for helping the Philippines in a variety of development-related ways.
He stated that "we can refer to so many of the advancements that took place in the Philippines with the help of the various Japanese financial organizations and government-to-government and commercial arrangements — and these have been to the benefit of both our countries."
"And it is a particularly fortunate time that we come back now simply because we have to now restart our own economies, we have to transform our economies, and again the partnerships that I think that we have developed with our friends here in Japan, with Mitsui in particular… we will have to revitalize them as they have been dormant, to some extent, during the lockdowns of the pandemic," he continued.
***
We appreciate your reading. 😊Simple Ways To Say Thanks & Support Us:
1.) ❤️Give a Tip. If you would like to make a small donation to support us, please give a tip thru PayPal at
https://paypal.me/SocialBoostVA
😊❤️
Subscribers in the Philippines can make donations to mobile number 0917 906 3081, by using the GCash website or GCash mobile application.
2.) Be one of our
SPONSOR
. We can published your promotions, PR stories/news articles with contact details as an additional exposure of your company products and services.
3.) 👍 Give this news article a Thumbs Up, Leave a Comment (at Least Five Words), and Share!
***
Cebuano
English
Filipino
Please follow and like us: