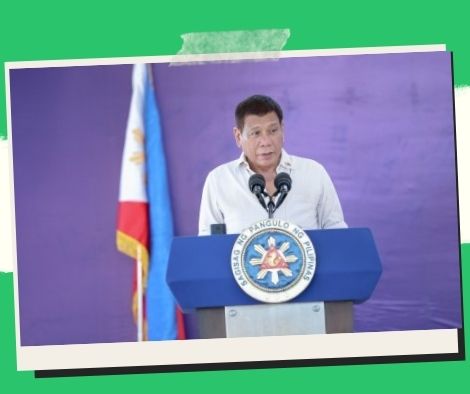 'You've done PH proud,' says PRRD to overseas service recipients.
President Rodrigo Duterte bestowed the Order of Sikatuna and the Gawad Mabini to seven overseas service personnel on Monday in appreciation of their outstanding contribution to the people and the country.
In defending the country's independent foreign policy and guaranteeing the welfare of Filipinos at home and abroad, Duterte praised their "unwavering sense of duty and persistent efforts."
In his speech at Malacaan Palace, he said, "Today I am honored and humbled to recognize distinguished members of the Philippine foreign service who have braved in facing severe difficulties, including mortal challenges, principled in advancing our foreign policy, and creative in solving seemingly vexing problems."
He also expressed his hope that they would continue to do their best to serve the people and the country.
"With the weight of Apolinario Mabini's legacy on your shoulders and the national interest at the forefront of your thoughts and actions, you have done our country proud." It is my sincere hope that you and your Philippine foreign service colleagues will continue to serve the Philippines to the best of your ability and without reservation. He went on to say, "The Filipino people deserve nothing less."
The Order of Sikatuna is a diplomatic honor bestowed upon those who have performed remarkable and honorable service to the Philippine Republic.
Gawad Mabini is awarded to Filipinos who have distinguished themselves in overseas service or who have contributed to the promotion of the Philippines' interests and prestige abroad.
It is named after Apolinario Mabini, the First Republic of the Philippines' first Secretary of Foreign Affairs.
Jose Romualdez, the Philippine Ambassador to the United States, was awarded the Order of Sikatuna, Rank of Datu, Gold Distinction for his efforts to improve the Philippines' long-standing comprehensive connections with the United States of America.
During his time as Philippine envoy, he strengthened the Philippines' US alliance by enhancing defense and security cooperation, particularly in maritime security and the upgrading of Philippine defense capabilities, as well as promoting trade and investment, which resulted in the recent entry into the Philippines of US-based SBA Communications, advancing the country's telecommunications technology backbone.
He also played a key role in the government's pandemic response operations by helping to purchase 20 million doses of the Moderna Covid-19 vaccine.
From Washington, D.C., US, Romualdez participated in the conferment event by video conference. Minister and Consul Gunther Sales of Washington, D.C. accepted his honor on his behalf.
The following were the other awardees:
Antonio Villar, Administrative Officer, Office of the Undersecretary for Multilateral Affairs and International Economic Relations, Gawad Mabini, Rank of Kasugo, for his "outstanding contribution in the promotion and protection of the rights and welfare of overseas Filipinos under the jurisdiction of the Philippine Embassy in Rome; for his crucial role in the successful repatriation of Filipino seafarers who were stranded at the West Port in Albania for five months."
Bernardo Bagalay, Assistant, Office of the Undersecretary for Migrant Workers Affairs, Gawad Mabini with the Rank of Kasugo, for his "vital contribution in the promotion and protection of the rights and welfare of overseas Filipino workers, for his crucial role as a member of several rapid response teams providing much-needed assistance to distressed overseas Filipinos during times of conflict; and for his valuable assistance in the repatriation of more than 5,000 overseas Filipino workers."
Katrina Isabelle Borja-Martin, First Secretary and Consul, Philippine Embassy in Washington, D.C., Gawad Mabini, with the Rank of Dakilang Kasugo (Commander), for her "distinguished accomplishments as First Secretary and Consul of the Philippine Embassy in Washington, D.C.; for her exemplary dedication in serving the interests of Filipinos within her jurisdiction; for her laudable efforts in negotiating vaccine supply for the Philippines, reaching out to various pharmaceutical companies; for her
Noel Novicio, Special Assistant, Office of the Undersecretary for Bilateral Relations in Asean Affairs, Gawad Mabini with the rank of Dakilang Kasugo (Commander), for his "outstanding achievements in advancing Philippine interests in the Asean community; for his demonstrated competence and expertise as Philippine lead negotiator on Leader and Ministerial Level outcome documents in Asean; for his efficient shepherding of Asean negotiations at the working group level during the Asean negotiations
Robert Borje, Chief of Presidential Protocol and Presidential Assistant on Foreign Affairs, Office of the President, Gawad Mabini with the Rank of Dakilang Kamanong (Grand Cross), for his "meritorious contributions to advancing the country's independent foreign policy objectives as Presidential Assistant on Foreign Affairs; for his demonstrated commitment in promoting the rights and welfare of overseas Filipino workers, leading special repatriation missions, and strongly advocating for their rights and welfare as Presidential Assistant on Foreign Affairs; and for his demonstrated commitment in
Enrico Fos, Assistant Secretary, Office of the Undersecretary Migrant Workers Affairs, Gawad Mabini with the Rank of Dakilang Kamanong (Grand Cross) for his "critical commitments to the advancement and security of the freedoms and government assistance of abroad Filipino laborers, for initiating the Department of Foreign Affairs' Covid-19 reaction activity especially the mass bringing home of abroad Filipino specialists impacted by the pandemic; for his vital job in the foundation of the One-Stop Shop tasks of the Ninoy Aquino International Airport that worked with the section of inbound travelers and execution of obligatory wellbeing conventions during the pandemic; and for propelling the public interest in the space of movement in different limits particularly as the Philippine lead arbitrator for the detailing of the counter Kafala arrangement in the worldwide conservative for relocation."
Please follow and like us: