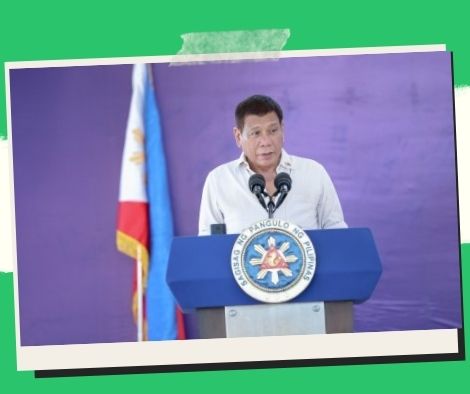 PH democracy is alive and well, but it is still a work in progress: PRRD
President Rodrigo Duterte called the Philippines' democracy "a work in progress," but praised Filipinos for being "free."
Duterte described democracy in the Philippines as "vibrant" during his Friday speech at the United States' (US) Summit for Democracy, which was held by US President Joseph "Joe" Biden Jr.
"I am honored to be here at this Democracy Summit to share my country's story with you. Democracy in the Philippines is still a work in progress. The Filipino, on the other hand, is unrestricted. In his speech, he declared, "The Philippines is free."
The Philippines, according to Duterte, is the "first republic in Asia" and the "inspiration of all Asian freedom struggles."
He stated that freedom of expression and the press are freely exercised, and that the regular transfer of power is ensured through free and fair elections.
Major obstacles
However, he stated that the country's biggest challenges have always been and will continue to be corruption, poverty, and law and order issues.
"They damaged our institutions and took away democratic institutions from many Filipinos," he added.
He emphasized the significance of peace and growth, stating that when he was elected president in 2016, he aimed for a government that truly works for the Filipino people, particularly the poor and oppressed.
He said "tough undertakings" such as enacting required changes, healing deep scars of division, and redressing severe disparities in the country were all part of his vow to deliver meaningful change.
"My government worked hard to provide the Filipino people with the basic necessities for a dignified life. He explained that this requires "producing jobs, ensuring peace and security, and establishing social safety nets."
Duterte claimed that the country had made "great progress," particularly in terms of economic expansion, then Covid-19 struck and undid many of the country's hard-won advantages.
Despite the fact that his government aimed to enhance democratic participation through federalism, he confessed that his constitutional proposal was not supported by Congress.
"All well, then. He stated, "I appreciate the division of powers, which is essential for democracy."
Elections that may be trusted
Despite this, he stated that he will devote the final months of his presidency to ensuring that no one is left behind while the country recovers from the pandemic.
"In June 2022, I will step down." Our imperfect democracy's task will undoubtedly continue. "In May, my administration will ensure that elections are fair, peaceful, credible, and free," he stated.
Duterte stated that handing up the reins of power to his successor would be his "greatest honor," knowing that he had done his best to serve the country and people.
Duterte's intention to attend the US-organized meeting was previously termed by Malacaang as "compatible" with his independent foreign policy of being "friend to everyone, enemy to none."
Duterte has always prioritized a policy that will first and foremost serve the people and defend the country's interests, according to acting presidential spokesperson Cabinet Secretary Karlo Nograles.
Please follow and like us: