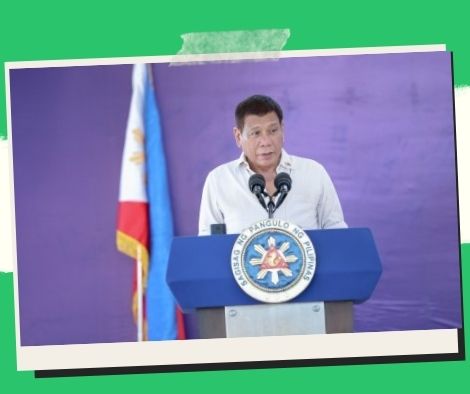 'I never made a dime from the drug war,' says PRRD.
President Rodrigo Duterte insisted on Thursday that his administration's anti-drug campaign was initiated for the sake of the Filipino people, not for his own personal gain.
Duterte restated his desire to be tried and prosecuted by a Filipino judge in a Philippine court, rather than by "white people" at the International Criminal Court in The Hague (ICC).
"When they threaten to put me to prison, I don't feel threatened. But what I don't want is to be convicted and imprisoned in the Hague Court by white people," he remarked during a speech in Bais City, Negros Oriental.
He chastised the International Criminal Court for interfering in Philippine issues.
"I'll never accept being judged by white folks." Do they believe I'm insane? "What are they doing breaking our laws for?" Added he.
Duterte claimed he reaped no benefits from his administration's anti-drug campaign.
"Keep this in mind, okay?" I have never gotten a single penny from anything I've done as President. I did it solely to protect the children from the dangers of drug addiction. "Once people become addicted to it, their brain begins to shrink," he explained.
He stated that drug addiction wrecked people's life and made them criminals.
"That's how it'd start until you started committing robberies and killing people." That's why I mentioned it's only for Filipinos. He went on to say, "I have nothing to gain from that."
Duterte remarked in a speech in Zamboanga on Dec. 2 that he may not have been able to entirely eradicate illegal drugs and criminality, but he did the best he could with the time he had.
"There will always be sins and wrongdoings committed by a human being as long as there are men on this globe." Whatever the case may be, I tried my hardest and hindi ko naman sabihin na ano pero mukhang nakumpleto ko halos lahat nang ipinangako ko sa taong bayan," he remarked.
The International Criminal Court (ICC) stated in September that it has begun an inquiry into the Duterte administration's drug war and the suspected Davao Death Squad's actions in Davao City from 2011 to 2016.
In November, the Philippines formally requested that the International Criminal Court (ICC) delay its investigation into alleged crimes against humanity, stating that the Philippine government is already investigating these crimes.
The inquiry was "temporarily paused" by the ICC, but the Philippine government was urged to give "substantiating facts" on proceedings highlighted in its request for a deferral of the probe.
Please follow and like us: