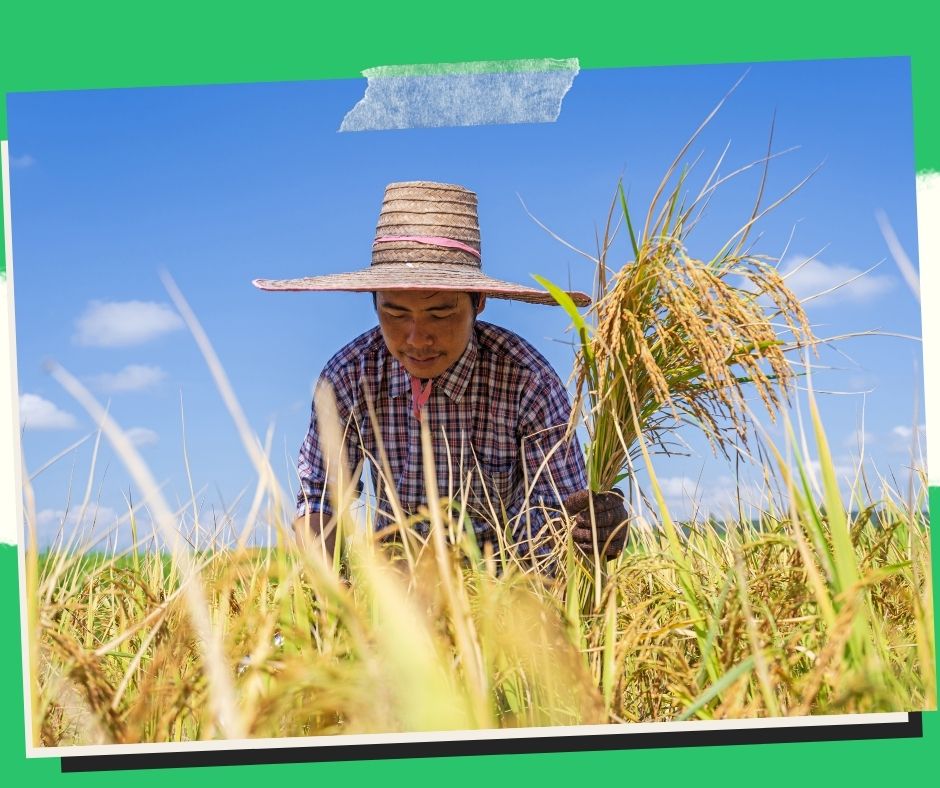 Rice producers are being asked to stick to sowing rates in order to increase yields.
MANILA, Philippines — For greater yields and lower production costs, the Department of Agriculture's Philippine Rice Research Institute (DA-PhilRice) is advising farmers to use the recommended seeding rate in rice production.
The amount of rice seeds planted per hectare is referred to as the seeding rate. For transplanted rice, DA-PhilRice advises 40 kilograms (kg) per hectare, while direct-seeded rice is recommended at 60-80kg per hectare.
"Rice plants grow healthier when this is done because they get enough sunlight and can uniformly absorb nutrients from the soil. It can also aid in the production of prolific tillers, resulting in larger yields. This suggestion leads to higher output and cheaper farm expenses "Rizal Corales, DA-principal PhilRice's science research specialist, outlined the situation in a statement on Tuesday.
Farmers used to seed their fields at a rate of 200-250 kg/hectare. Many Filipino farmers now use 100-150 kilograms of seeds per hectare. Extra seedlings, according to some farmers, act as a "buffer" during pest invasions such as snails and birds.
However, according to Corales, planting at a higher pace causes farmers to spend more money and provides a lower crop since the plants may develop fewer tillers as a result of the close spacing, which affects the plants' ability to get sunshine and nutrients.
"According to our calculations, 40kg contains at least 1.6 million seeds. At 3 seedlings per hill, a one-hectare farm requires 750,000 seedlings. 40kg seeds can produce 1.3 million seedlings if high-quality seeds have a germination rate of at least 85%. There could be roughly 600,000 extra seedlings available for farmers to replant if pests cause damage "Corales explained.
Meanwhile, through its Rice Competitiveness Enhancement Fund (RCEF) Seed Program, DA-PhilRice ensures that farmers in its 42 target provinces are equipped and enabled to implement the suggested practice.
"The germination rate of high-quality seeds is very high. Farmers can rest comfortably than 40 kg will suffice because the majority of seeds will grow. Farmers previously struggled to implement the advice because they lacked access to high-quality seeds. Seeds were not subjected to quality control since they obtained planting materials from their own harvests or from fellow farmers. With the RCEF-Seed Program, getting high-quality seeds has never been easier "According to Corales, who is also the head of the program's field operating section.
The RCEF Seed Program also holds PalaySikatan technology demonstrations to highlight the impact of employing the recommended seeding rate in conjunction with other modern technologies and practices.
For direct seeding, farm machinery like the drum seeder, seed spreader, precision spreader, and drone seeder, as well as riding-type and walk-behind type mechanical transplanters, enable a more precise application of the recommended seeding rate.
Farmers have lowered the number of seeds they use to 86 kg during the 2021 dry season, and later to 76 kg during the 2021 wet season, according to recent data from the RCEF Seed Program's monitoring and evaluation study of DA-PhilRice in the 42 target provinces. Corales credits the success to a variety of measures to promote and inform farmers about the method.
"With the usage of agricultural machinery being employed and shown in various technology demonstration sites built nationwide, we intend to significantly reduce the seeding rate," he said.
Following the prescribed seeding rate also appears to be helpful on a macro scale, according to Dr. Flordeliza Bordey, DA-PhilRice RCEF Program Management Office head.
"If farmers in RCEF's target areas follow the advice, more farmers will be reached and more rice will be planted as a result of the program. At most, our overall production will increase, and more sources of our country's main food will be available "she stated
The RCEF-Seed Program is part of Republic Act 11203, often known as the Rice Tariffication Law, which allocates P10 billion in subsidies to rice farmers each year from the country's rice tariff profits. The program is a six-year government project aimed at assisting farmers in competing in the global rice market. Its implementation is aided by local government entities and legislators.
Please follow and like us: