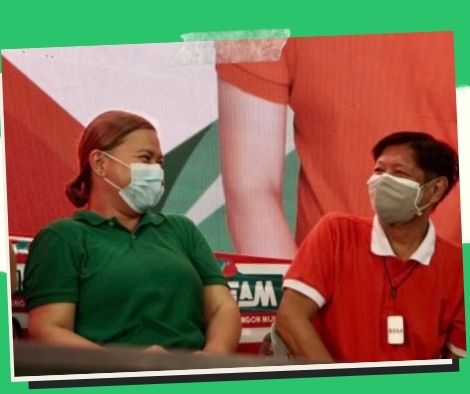 In a recent Kalye survey, BBM and Sara received top marks.
MANILA, Philippines — Former Senator Ferdinand 'Bongbong' Marcos, Jr. and his running-mate, Davao City Mayor Inday Sara Duterte, had a supermajority victory in the Kalye Survey results released a little more than a week before the much-anticipated May 9 national and municipal elections.
Marcos and Duterte will be runaway winners, according to data acquired by SPLAT Communications from Kalye Surveys conducted countrywide from April 11 to 30, with voter preference shares of 68.3 percent and 68.2 percent, respectively.
Marcos' opponent, Leni Robredo, came in second with 14 percent of the vote.
VP aspirant Tito Sotto, on the other side, has 15.6 percent preference shares, well behind frontrunner Duterte.
Manny Pacquiao beat Isko Domagoso for third place in the next presidential election, with 5.8 percent of the vote to Domagoso's 4.6 percent.
There were 10,091 people who responded to the presidential poll, with 6% uncertain, and 6,881 people who responded to the vice-presidential poll, with 7.9% undecided.
"The figures suggest that the UniTeam of Mayor Inday Sara Duterte and former Senator Ferdinand 'Bongbong' Marcos, Jr. won by a supermajority." This is unavoidable at this stage… In a news release issued Tuesday, SPLAT Communications stated, "It's only a matter of time before these formalities are achieved."
No amount of argument will ever affect the outcome, according to the information and data supplier.
"That window of opportunity has long since closed," it continued.
Similarly, SPLAT urged electors to vote in order to validate the information acquired.
"All of these figures are meaningless if no one votes on election day." As a result, make sure your voting lists are ready and that you will vote," it said.
According to SPLAT, the most successful pair of candidates is one that compliments one another.
"The Philippines' future appears to be bright. Unity is a powerful force that helps people achieve their goals. "A unified nation can never be conquered," it declared.
Please follow and like us: