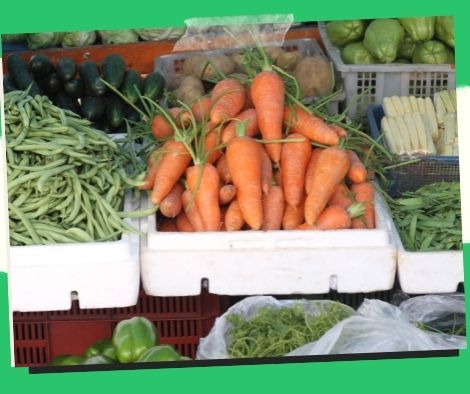 Farmers in CAR will be taught how to handle and wash vegetables properly.
BAGUIO CITY, PHILIPPINES — On Tuesday, the Department of Agriculture in the Cordillera Administrative Region (DA-CAR) announced that farmers will be trained on how to properly handle and wash extremely perishable vegetables in order to extend their shelf life.
In an interview on Tuesday, Cameron Odsey, regional director of the DA-CAR, stated, "We are waiting for the list from the farmers' association so that we can organize the training for the first batch on proper washing and handling."
The Agricultural Training Institute (ATI), the DA's training arm, will conduct the training, he said.
According to Odsey, incorrect washing of vegetables, particularly those with sensitive flesh or broken skin, generates blemishes and holes that cause them to deteriorate more quickly.
This occurs as a result of bacteria invading the flesh through an open wound.
"Take carrots, for example." Hinuhugasan kahit maputik na ang planggana hindi pa rin nagpapalit ng tubig pag hinuhugasan kahit maputik na ang planggana hindi pa rin nagpapalit ng tubig pag hinuhugasan kahit 'Yung sugat sa balat na triggered ng pag scrub hindi papasukin ng bacteria at nagiging dahilan na mas mabilis masira kailangan din binabanlawan ng maayos. (Carrots, for example, are scraped and washed in a basin with water that is not changed, even though the water is muddy.) Without rinsing, bacteria penetrates the lesion, causing the vegetables to deteriorate faster)," Odsey explained.
He mentioned that when he was a kid, he used to wash carrots at the Hangar Market in Baguio City, and that same method is being used today.
"We have to progress." Hugas lang sabi natin, pero may effect pala at kung papalitan natin ang sistema, baka mas gumanda ang kita ng farmers at traders kasi ang presyuhan depende 'yan sa quality (We say it's just washing, but it has an effect, and if we change how we do things, our farmers and traders may earn more because the prices of vegetables also depend on quality), the
He used the PHP10 carrots as an example, which became a big topic on social media over the weekend.
"Medyo matagal na yung carrots and habang hindi nabebenta, mas pumapangit at bumababa ang quality, kaya bumababa rin ang presyo," says the narrator. When a product is amazing, even if it's just for a day, it's time to lower the price. (The carrots were old and no longer looked attractive, so their prices will drop as well.) Even if a product is not freshly harvested, if it is in good shape, it will last a long time with the same appearance and can be sold at a reasonable price)," Odsey remarked.
According to Odsey, appropriate handling, cleaning, and storage, as well as basic processing and packing, will help veggies last longer.
"If we want to better our products and eventually our income, we need to replace the old system we grew up with and adopt new ones," Odsey added. (PNA)
HANDLING IN THE RIGHT MANNER. In this file photo from December 2021, vegetables are meticulously handled and packed at a sorting center in La Trinidad, Benguet. To increase the shelf life of extremely perishable items, the Department of Agriculture and the Agricultural Seminar Institute in the region are hosting a training for farmers on correct handling, washing, and packaging.
Please follow and like us: