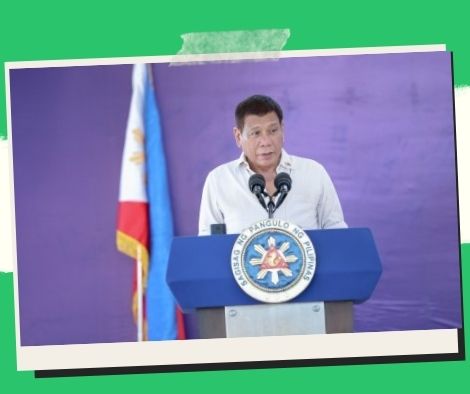 Duterte believes the new administration will 'do everything possible to combat narcotics.
MANILA – President Rodrigo R. Duterte believes that his successor, President-elect Ferdinand "Bongbong" Marcos Jr., will continue the campaign against illegal narcotics "to the best of his ability."
In a prerecorded Talk to the People, he remarked, "Well, I trust that the new administration would also do its very best to tackle itong drug[s]."
Despite admitting that he is "frightened" that the drug sector would flourish when his term expires, he is certain that the police and military will "keep the momentum" in the anti-narcotics operation.
"I put my whole trust and confidence in the two organizations we have that fight for us: the police and the military." "I believe these are the institutions that will not allow the drug people to triumph," he added.
Duterte recognized that the country's police force contains some bad apples, but said that the Philippine National Police (PNP) is constantly purging its ranks of scumbags.
"I still have faith in the cops." There are some scalawags, some ring nasa droga pero (There are some scalawags, some ring nasa droga pero) – a handful of them. "However, the police had to police its own ranks, and many pulis na nahuli nila (many police officers have been apprehended)," he stated.
He advised new PNP members to serve the country and its people regardless of the country's leaders.
"Dadaan kami eh…
Kita mo ako mayor, kahapon lang dumaan lang sa harap ko (We're only passing through…
See, I used to be a mayor, and it seems like it was only yesterday when I was passing in front of you). However, the Armed Forces and Police Organization will always be present. So kayo ang —- nakikiusap ako sa inyo na preserve your 'yung ano ninyo your reputation na maasahan ang pulis, maasahan ang military (So you, I plead to you to retain your reputation as police and military who can be trusted) to rescue the country," he remarked.
Duterte also cautioned them against getting involved in the illegal drug trade.
"That is why, if you truly love your country, you cops should keep away from drugs and the temptation of money," he stated. "The pull of money, I added, is profoundly destructive to a human being's values."
Concerning the communist insurgency
Meanwhile, Duterte slammed human rights groups for accusing him of "going to extremes" in his administration's anti-drug campaign while failing to examine the murders of law enforcement personnel and civilians by communists and terrorists.
"Is there any case being pursued by human rights organizations, whether international or local, to at least equalize the situation by going against terrorists who are criminals?" he said.
He chastised members of the Communist Party of the Philippines-New People's Army-National Democratic Front (CPP-NPA-NDF) for assassinating barangay (village) captains and other officials.
The United States, European Union, United Kingdom, Australia, Canada, New Zealand, and the Philippines have all designated the CPP-NPA as a terrorist group.
On June 23, 2021, the Anti-Terrorism Council formally recognized the NDF as a terrorist group, identifying it as "an integral and inseparable member" of the CPP-NPA, which was established in April 1973.
Duterte also lauded the National Task Force to End the Local Communist Armed Conflict (NTF-ELCAC) for its efforts to handle the Philippines' decades-long insurgent problem.
"Ang success ng ELCAC, iyong whole-of-government approach, 'pag na-maintain 'yan, mas madali (The success of the ELCAC, its whole-of-government approach, 'pag na-maintain 'yan, mas madali)," he continued.
In "another two years," he said, the government will practically "wipe out" communist guerrillas.
Duterte signed Executive Order 70 in December 2018, which establishes a whole-of-nation approach to achieving inclusive and durable peace and establishes the NTF-ELCAC to monitor its implementation.
In prior addresses, Duterte expressed his optimism that the government's anti-insurgency programs under the NTF-ELCAC would be continued by the next administration.
Please follow and like us: