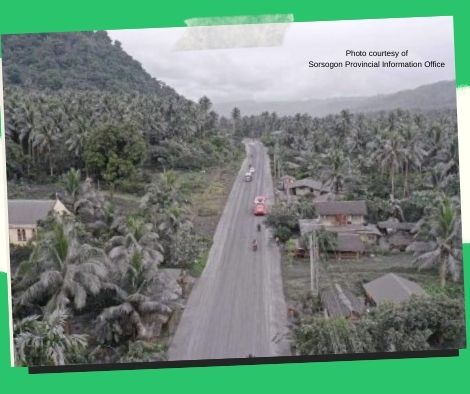 Bicol and Sorsogon are preparing for the worst-case scenario in Bulusan.
MANILA, Philippines — In the midst of Mount Bulusan's turmoil, the provincial government of Sorsogon and disaster response organizations in the Bicol area are prepared for a "worst-case scenario."
"The Region 5 Disaster Risk Reduction Management Council and the provincial government of Sorsogon are preparing for the worst-case scenario: Mount Bulusan erupting violently. If this occurs, the danger zone will be expanded to six kilometers, affecting approximately 95,000 people, according to the provincial government of Sorsogon "Ricardo Jalad, executive director of the National Disaster Risk Reduction and Management Council (NDRRMC), told President Rodrigo Duterte during his Monday night Talk to the People briefing.
Pyroclastic and lava flows, ashfall, lahar, and lahar mudflow are all potential hazards from an eruption.
"Banggitin ko rin pala na doon sa Sorsogon contingency plan ay kung sakaling mangyari ang worst-case scenario ay i-evacuate nila ang buong munisipyo ng Irosin dahil malaki sa munisipyo ng Irosin ay nandoon mismo sa caldera And ang mandatory or forced evacuation ay mangyayari kapag itinaas na ang alert level ng Mount Bulusan ay 3 or 4 (I'll also mention the provincial government of Sorsogon's contingency plan in case of a worst-case scenario, which is to evacuate the municipality of Irosin because a large portion of the town is located near Mount Bulusan's caldera), "Jalad remarked.
The Bicol RDRRMC has already been placed on blue alert, according to Jalad, who is also the Office of Civil Defense administrator.
He stated that communication lines in the Bulusan-affected local government units are still operational.
"And the availability and prepositioning of resources and assets na magsagawa ng constant monitoring and assessment are naabisuhan ang mga iba't ibang regional government agency. At nag-implement ng 'no-entry' papunta doon o papasok sa four-kilometer permanent danger zone ng Mount Bulusan Volcano. (We also briefed other regional authorities on the availability and prepositioning of resources and assets that are undertaking continuous monitoring and assessment.) They are now enforcing a 'no-entry' policy for individuals attempting to enter the four-kilometer danger zone) "Jalad said.
He also mentioned that Sorsogon has 446 evacuation sites, including public schools, all of which are outside of the nine-kilometer danger zone.
If forced or required evacuations are ordered, these evacuation facilities will be utilized.
According to Jalad, the evacuation centers will be insufficient, and the RDRRMC Region 5 will request assistance from the surrounding provinces of Albay and Camarines Sur to house evacuees as part of its contingency plan.
"Throughout the Bicol Region, a total of 2,425 evacuation centers are available in the buong region. And if our countrymen allow us to transfer them as far as Masbate, Catanduanes, and Camarines Norte, the number of evacuation centers available will be adequate) "He went on to say.
The Philippine Institute of Volcanology and Seismology, as well as the NDRRMC Operations Center, are constantly monitoring the situation in Mount Bulusan, according to Jalad, who also advised residents living near the volcano to follow the advice of their local government units and other government agencies.
He stated the ashfall released by Mount Bulusan's phreatic eruption on June 5 harmed 2,784 families, or roughly 13,920 people in Irosin and Juban towns.
In Barangay Puting Sapa, Juban, a total of 216 people, or 53 households, were evacuated. Agriculture damage was estimated to be worth PHP20.2 million and covered 3,698 hectares of crops.
The phreatic explosion on Mount Bulusan, according to Jalad, has had no impact on transportation, communications, power, or water supply.
Please follow and like us: