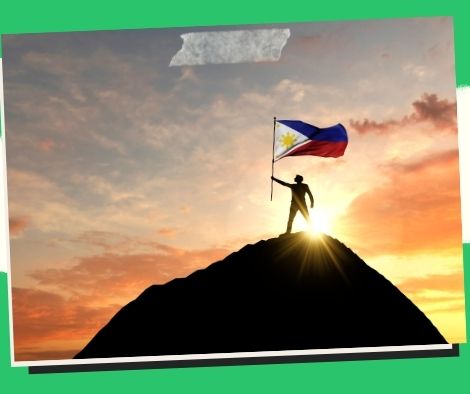 Filipinos were exhorted to "take heart from all the lessons learned in the past."
MANILA, Philippines — In a speech before the 124th Philippine Independence Day, outgoing President Rodrigo Duterte urged Filipinos to "take heart all the lessons from the past."
He gave his speech at the Federation of Filipino Chinese Chambers of Commerce and Industry, Inc.'s virtual celebration of Independence Day and the 21st Filipino-Chinese Friendship Day (FFCCCII).
Duterte emphasized the importance of celebrating Independence Day on June 12 as a monument to how the country's predecessors battled for the liberties that Filipinos have today in his speech.
"May it inspire us to emulate our heroes' fortitude and to put our abilities, skills, and knowledge to good use for the sake of our community," Duterte added.
He also asked the audience to "take heart all the lessons from the past," particularly the innumerable hardships that Filipinos as a country have had to face.
"Let our rich history inspire us to turn our passion for this country into genuine deeds of benevolence for all mankind." Let us also collaborate so that we can achieve our goal of a more peaceful and progressive Philippines. "Let us hope for a meaningful commemoration," he said.
On June 12, 1898, Emilio Aguinaldo, the Philippines' first president, declared the country's independence from Spanish colonial control in Kawit, Cavite.
Every July 4th since 1946, the Philippines has commemorated Independence Day. However, President Diosdado Macapagal signed Proclamation 4166, which shifted the commemoration to June 12.
Friendship between the Philippines and China
Incoming President Ferdinand "Bongbong" Marcos Jr., for his part, expressed the hope that the Philippines-China connection, which dates back centuries, will continue to serve both countries' peoples.
"Our cooperative collaboration continues to achieve new heights in trade, arts, culture, athletics, regional peace and stability, employment of chances for our people, and all the substantially generous efforts offered to us during the pandemic," he stated.
He expressed his optimism for further years of cooperation between China and the Philippines, not just in terms of diplomatic relations but also in terms of continuing and beneficial engagements.
On June 9, 1975, the Philippines and China established diplomatic ties.
By virtue of Proclamation 148 issued by former President Gloria Macapagal-Arroyo in 2002, June 9 is also designated as Filipino-Chinese Friendship Day every year.
Aside from Duterte and Marcos, Vice-President-elect Sara Duterte, former President Gloria Macapagal-Arroyo, senators, and other guests were also there.
The FFCCCII is a national umbrella group for Filipino Chinese entrepreneurs, bringing together over 170 business and trade associations from across the country.
Please follow and like us: