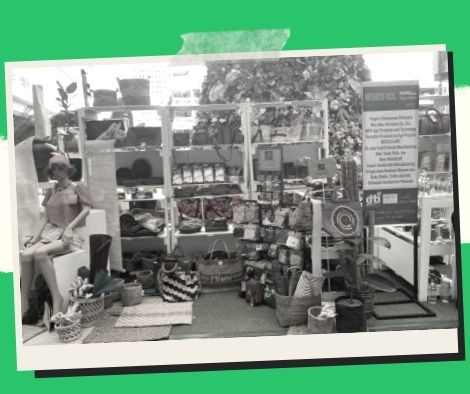 Eastern Visayas ARB small business entrepreneurs offer their products at an exclusive trade fair.
TACLOBAN CITY, Philippines – On Thursday, at least 56 agrarian reform beneficiaries (ARBs) who have turned entrepreneurs in Eastern Visayas attended a four-day trade expo designed specifically for them to present their products and find partners to help them promote them.
The Department of Trade and Industry (DTI) is aiming for PHP2 million in sales at the Robinsons Place Tacloban in a fair-themed "Hanap-Yaman sa Kanayunan" that runs from June 9 to 12 and coincides with the 34th anniversary of the Comprehensive Agrarian Reform Program (CARP).
"To commemorate CARP's 34th anniversary, we decided to create an exclusive exposition for beneficiaries of agricultural reform." Institutional buyers have been invited to attend the exhibition. In an interview, DTI Eastern Visayas Regional Director Celerina Bato remarked, "We hope they will be able to link partnership with them."
Butter cookies, toasted bread, bukayo (sweetened coconut strips), banana chips, sweet potato chips, coconut vinegar, coco peat, mats, bags, coco shell-based products, noodles, tablea (ground-up cacao beans), dried fish, and handicrafts are among the items available.
Eastern Visayas Regional Director of the Department of Agrarian Reform (DAR), Robert Anthony Yu, praised the DTI for aiding ARBs in creating and promoting local products.
"With proper labeling and packaging, their products are no longer raw." They're not only farmers; they're also business owners. With the help of DTI, it is now more marketable, achieving the other goal of the DAR under CARP, which is to support farmers and help them increase their income," Yu remarked at the opening.
CARP is the redistribution of private and public agricultural lands with the goal of assisting beneficiaries in surviving as small-scale, self-sufficient farmers.
Yu explained that the CARP is considered a comprehensive program because it not only distributes agricultural lands to landless farmers, but also provides a variety of support services, such as basic rural infrastructure, livelihood, entrepreneurial skills, and farm technology transfer, among other things, to help the farmlands become more productive.
Please follow and like us: