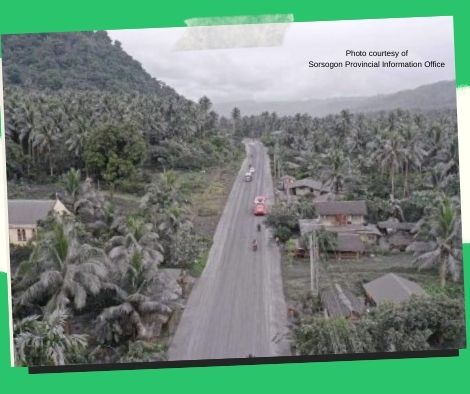 As Mount Bulusan spews ash once more, 8 flights have been canceled.
MANILA, Philippines — The Philippine Institute of Volcanology and Seismology (Phivolcs) detected another phreatic eruption owing to shallow hydrothermal activity on Sunday morning, a week after the Bulusan Volcano erupted.
The most recent phreatic eruption, which occurred at 3:37 a.m., lasted 18 minutes, however, the eruption plume was not visible in the camera monitors, according to Phivolcs.
As a result of Bulusan's actions, at least eight domestic flights were canceled, according to the Manila International Airport Authority.
Cebu Pacific (5J) 325/326 Manila-Legazpi-Manila; CebGo (DG) 6111/6112 Manila-Naga-Manila; and PAL Express (2P) 2923/2924 and 2P 2919/2920 Manila-Legazpi-Manila were among the disrupted flights.
Phivolcs had previously cautioned that increased seismic activity or the number of volcanic quakes measured could suggest the possibility of a phreatic eruption.
136 volcanic earthquakes generated by movement or eruptions of magma from the volcano have been recorded in the last 24 hours. For the past 24 hours, plumes up to 150 meters high have been detected.
The height of the plume pouring out of the crater indicates a lesser eruption.
According to Phivolcs, the sulfur dioxide flux was 613 tonnes on June 10.
The Alert Level 1 (low-level unrest) is still in effect.
Due to the increased likelihood of abrupt and hazardous phreatic eruptions, entry into the 4-kilometer permanent danger zone must be rigorously restricted, and attention to the 2-kilometer enlarged danger zone on the southeast sector must be exercised.
Pilots are urged not to fly too close to the summit of the volcano since ash from a quick phreatic eruption can be dangerous to planes.
Phivolcs also warned residents living in valleys and along river or stream channels, particularly in the southeast, southwest, and northwest sectors of the edifice, to be on the lookout for sediment-laden stream flows and lahars in the event of a phreatic eruption.
Please follow and like us: