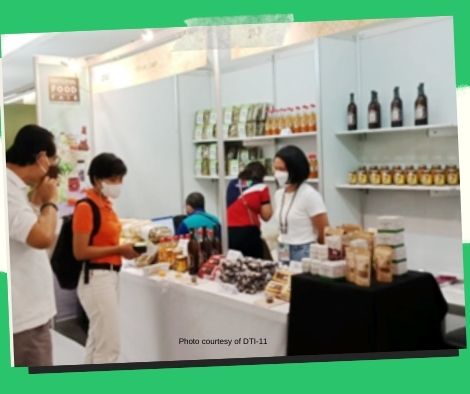 At the Manila food fair, Davao MSMEs make P5 million.
CITY OF DAVAO – 24 micro, small, and medium-sized businesses (MSMEs) from the Davao Region participated in the recently finished hybrid National Food Fair (NFF) in Metro Manila, and their combined sales came to PHP5,022,008, an official said on Tuesday.
In a news conference held here, Maria Belenda Ambi, director of the Department of Trade and Industry in the Davao Region (DTI-11), said, "We are delighted that even with the health issue, our MSMEs have continued to prosper and have prepared themselves for the future return of the trade fairs."
The DTI Bureau of Domestic Trade Promotion organized the event, which took place from June 1 to 5, and included locally-produced foods from several regions across the nation.
While booked sales amounted to PHP527,265, participants from the Davao Region received PHP989,297 in cash. Sales totaling PHP3,540,600 were pending confirmation from the exhibitors, according to the organizers.
Ayana's Siling Kinamayo from Davao Oriental, AG Pacific Corporation from Davao del Sur Province, Nutrarich Nutraceutical Innovation from Davao City, Raymundo's Homemade Products from Davao del Norte, and Malagos Agri-Ventures from Davao City are five of the top Davao Region exhibitors in terms of sales generated.
Due to the options that the exhibitors may make use of, the decision to do it in person is a welcome move, according to Ambi.
The MSMEs from the area participated in simultaneous virtual events on the Lazada e-commerce platform, as well as on social media and other live streaming websites, in addition to the conventional fair setting.
Ambi stated, "The NFF 2022 has become a platform for us to display our MSMEs' sustainable and creative processed food items, wherein we were able to physically provide such to all possible clients.
She pointed out that attendees of the trade show are beneficiaries of DTI-11 programs such as the Comprehensive Agrarian Reform Program, One Town, One Product, Shared Service Facilities, and Kapatid Mentor Me.
Ambi recommended individuals consider starting their own business to look into the chances the organization offers so they may get the support they need.
Please follow and like us: