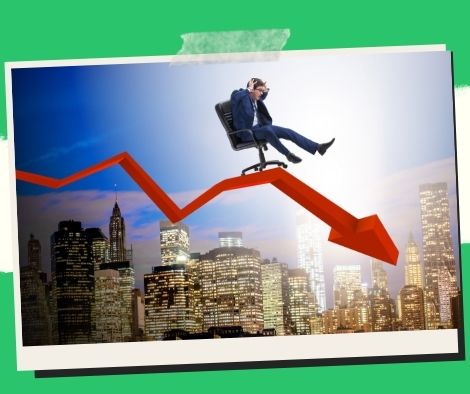 Peso and PH stocks decline again as fresh rate rise indications emerge.
The major index of Philippine stocks and the peso both continued to fall on Thursday as a result of monetary officials' pronouncements calling for further tightening of policy rates both here and in the US.
The Philippine Stock Exchange index (PSEi), which is down 1.67 percent, or 102.77 points, to 6,065.23 points, saw all the counters in the local market close the day in the red once more.
All Shares fell 43.62 points, or 1.31 percent, to 3,284.73 points after that.
Among the sectors counters, Mining and Oil saw the largest decline, falling 3.98 percent, followed by Financials (3.35 percent), Services (2.40 percent), Property (1.31 percent), Industrial (1.04 percent), and Holding Firms (0.72 percent).
The number of shares traded increased to 1.08 billion, worth PHP5.42 billion.
At 143 to 65, decliners outnumbered gainers while 36 shares remained unchanged.
Fed (Federal Reserve) Chair Jerome Powell acknowledged that achieving a soft landing without a recession has become "significantly more challenging," according to Regina Capital Development Corporation (RCDC) head of sales Luis Limlingan, citing Powell's testimony before the US Senate on Wednesday night. "Philippine shares fell in choppy trading as investors considered the likelihood of a recession," Limlingan said (Manila time).
Later on today, as part of a Congressionally required semi-annual report on monetary policy, Powell will also give additional testimony on the US economy before the US House of Representatives.
Another driver for Thursday's trade at the local marketplace, according to Limlingan, was the drop in oil prices on the global market.
According to him, US West Texas Intermediate (WTI) crude oil futures fell by 3% to USD106.19 per barrel and Brent crude oil futures fell by 2.5 percent to USD111.74 per barrel.
Investors' concerns "that the looming recession could decrease demand for fuel" are what he ascribed this too.
In the meantime, the local currency lost more ground against the US dollar, falling to 54.7 from Wednesday's closing of 54.47.
It started the day at 54.4, down from the previous session's opening price of 54.3.
The range of its trades, from 54.35 to 54.7, raised the day's average to 54.491.
Volume decreased from the previous session's USD1.35 billion to USD1.06 billion.
In response to queries from the Philippine News Agency, chief economist of Rizal Commercial Banking Corporation (RCBC) Michael Ricafort stated that the peso ended the trading day at 54.74, the lowest level in more than 16 years.
In the midst of recent and anticipated larger and faster Fed rate hikes, he noted, "(this) occurred amid constant relatively dovish signals/reiteration of gradual +0.25 local policy rate hike in the coming months."
A rise in Fed interest rates, according to Ricafort, will result in "interest differentials in favor of the US dollar vs. key global/Asian/Asean currencies."
The Fed Chair Powell's admission that recession risks are related to the Fed's more aggressive rate hikes and monetary policy, as well as his indication that a gentle landing would be very difficult, weighed on the market sentiment, he added.
According to Ricafort, the PSEi's decline to its lowest level since October 19, 2020 and news of a lower-than-expected budget deficit in May of last year—at PHP146.8 billion as opposed to PHP200.3 billion—also had an impact on the peso's daytime trading value against the US dollar.
The decline in global crude oil prices and the decline in US Treasury yields, he noted, counteract these considerations.
The peso's next resistance level, according to Ricafort, is at the 55-level.
Please follow and like us: