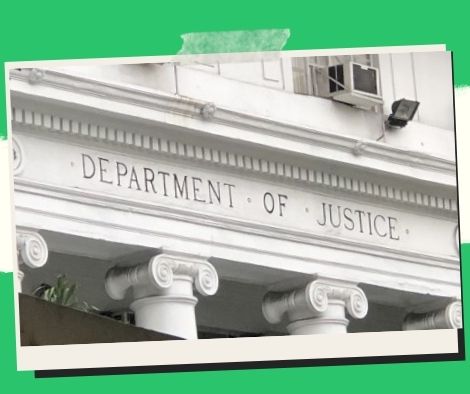 People who feel wronged by ATC decisions may seek redress from the DOJ.
Following the request by National Security Advisor Hermogenes Esperon Jr. for authorities to block the affiliated websites of Communist terror groups, a justice official said Wednesday that there are sufficient safeguards and recourse for parties and individuals who feel wronged by decisions of the Anti-Terror Council (ATC) (CTG).
In response to questions from reporters, Justice Undersecretary Adrian Sugay stated that "there are remedies under the law and judicial recourse is always available" if someone felt wronged by what they believed to be improper use or application of any ATA (Anti-Terror Act) provisions, including those pertaining to the designation.
Sugay cited ATA implementation regulations that state that any designations made under the Act regarding individuals, groups of individuals, organizations, or associations that are considered terrorists shall be subject to government authority and that no designations shall be made while a criminal case is pending against the proposed designee.
Esperon requested action from the National Telecommunications Commission against 26 websites linked to the Communist Party of the Philippines and its armed wing, the New People's Army, in a letter to Cordona dated June 6.
In his letter to the NTC, Esperon claimed that the organizations "have established a pervasive online presence through their websites that they (CTG) continually use to publish propaganda and misinformation campaigns in order to malign the Philippine government, recruit new members, and solicit funds from local and international sources."
Internet service providers (ISPs) in the Philippines are to be ordered by the NTC to ban access to the sites, according to Esperon.
The Republic Act (RA) 11479, also known as the Anti-Terrorism Act of 2022, was affirmed by the Supreme Court (SC) last April 26 with the exception of two of the law's clauses.
All other contested parts of RA 11479 are not unconstitutional, with the exception of a piece of Section 4 and a portion of Section 25.
While Section 25 deals with petitions from foreign agencies or entities to identify individuals as terrorists and terrorist organizations, Section 4 deals with excluding mass actions and similar exercises of civil and political rights from the concept of terrorism.
The qualification part of Section 4 that reads, "which are not intended to inflict death or significant physical harm to a person, to jeopardize a person's life, or to constitute a serious risk to public safety," was declared unconstitutional by the SC on a 12-3, divided vote."
The proviso in Section 4's qualification is "found unlawful for being overbroad and violative of freedom of expression," according to the ruling.
By a vote of 9-6, a section of Section 25, Paragraph 2, which permits "After determining that the prospective designee satisfies the requirements for designation under UNSCR No. 1373, the ATC may approve requests for designations from other countries or supranational organizations.
Please follow and like us: