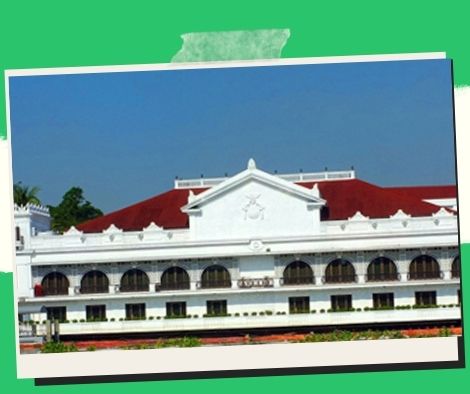 Swearing in Cabinet members is Marcos' first "official act."
On Thursday afternoon, newly-elected President Ferdinand "Bongbong" Marcos Jr. visited Malacanang Palace to swear in members of his Cabinet.
Prior to attending his swearing-in ceremony at the National Museum of the Philippines, Marcos paid a visit to Malacanang earlier in the day to sign the guest book in the palace and meet with outgoing President Rodrigo Duterte.
Before leaving the Palace to formally terminate his six-year term as president, Duterte was accorded one more round of military honors.
The drizzle that greeted his arrival honors forced everyone inside the palace grounds to use umbrellas.
Marcos received arrival honors at the Malacaan and then swore in members of his Cabinet after having a customary Vin d'honneur with diplomats at the National Museum.
With his wife, attorney First Lady Liza Araneta-Marcos, and their sons Sandro, Simon, and Vincent, he ascended the palace's main staircase this time.
The widespread swearing-in of new Cabinet secretaries was referred to by Marcos as the "first official act" of his presidency.
At least 24 individuals have been appointed by Marcos to executive departments and other Cabinet-level organizations as of this writing; the majority of these individuals will subsequently be confirmed by the Commission on Appointments in Congress.
Some of his picks served in Duterte's Cabinet as well.
For the time being, Marcos has appointed himself secretary of the Department of Agriculture (DA).
He has not yet chosen secretaries to lead the Departments of Energy, Foreign Affairs, and Health (DOH) (DOE).
Trixie Cruz-Angeles, the press secretary, previously stated that other nominations would be announced in the coming days.
Additionally, Marcos took the oath of office for representatives of Ilocos Norte and Ilocos Sur, including his eldest son, Ferdinand Alexander "Sandro" Marcos of the Ilocos First District.
An inauguration supper will likely be hosted by Marcos in the Palace.
In Mendiola, Manila, he will also attend a People's Concert as a thank-you gesture for his followers.
On Thursday at noon, Marcos took the oath of office at the National Museum in Manila.
The President-elect must take the oath at noon on June 30 in accordance with the 1987 Constitution to officially begin his six-year term as the nation's new leader.
Please follow and like us: