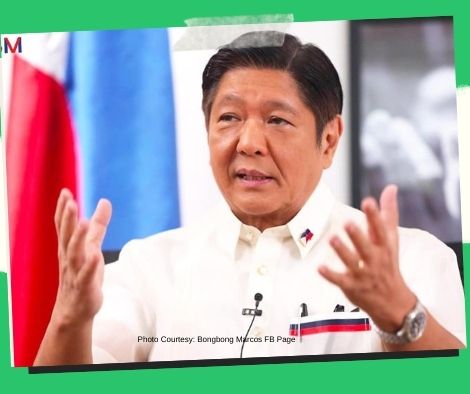 Covid fails to slow down PBBM but continues to function when used alone.
President Ferdinand Marcos Jr. tested positive for Covid-19, but he is doing OK and is still working alone, giving orders to his cabinet members while relaxing at home, according to press secretary Trixie Cruz-Angeles on Sunday.
Dr. Samuel Zacate, the President's primary physician, visited him on Saturday afternoon, according to Angeles. Zacate stated that the President had substantially improved and was only experiencing minor symptoms, including "no temperature, no loss of taste or smell sensitivity."
In addition to finding no evidence of inflammation in the President's neck, Zacate's physical examination found "no sign of respiratory distress or pneumonia."
According to Angeles, "His personal physician, Dr. Zacate, reported Saturday that the President is doing well and in very good condition."
Recall that on Friday, July 8, an antigen test on the President revealed that he had Covid-19.
He had a slight temperature, a stuffy nose, an itchy nose, and an infrequent, mildly productive cough at the time.
Marcos was later given an RT-PCR test, which revealed that he was positive for Covid-19.
Marcos' Covid-19 test result is now positive for the second time.
The first occurred in 2020, at the height of the pandemic, when tens of thousands of Filipinos caught the disease.
According to the Department of Health's protocol for fully immunized people, the President was instructed to spend seven days in home isolation, said Angeles.
According to Angeles, who cited Zacate's most recent health report for the President, the president's "vital signs are within normal limit and he would be submitted to further laboratory evaluation as may be needed" depending on his or her progress.
According to Angeles, the President's home meds are still being administered, and Zacate is closely watching him while he is still in his home isolation.
The President stressed the significance of a booster campaign rollout in his virtual address to mayors and governors on Friday, the day he began his isolation, in order to safely resume face-to-face lessons and fully reopen the economy.
"So let's go back to the idea of the vaccine launch that we did last year. For my sake, it was a victory for us all. At the time the booster rollout was being prepared, it was absolutely possible for us to change the mask's optionality, the alert level, and more "Marcos made a mentioned.
He was certain that the government would permit kids to attend full face-to-face classrooms again and fully open the economy if the major immunization effort is a success.
He emphasized that those positive changes can serve as a signal to the rest of the world that the Philippines is once again completely open and operating normally.
He wants local government agencies to organize massive vaccination campaigns for booster shots aimed at schoolchildren so that they can return to class in August or September without fear.
Please follow and like us: