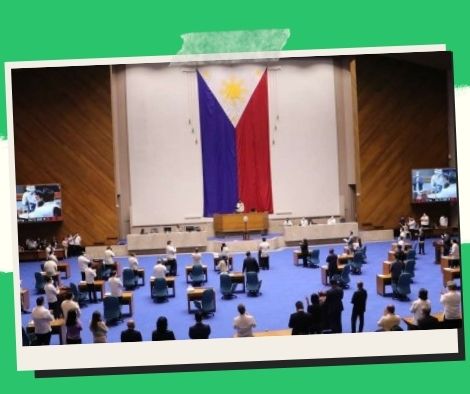 The House plenary votes on the priority tax reform package bill from PBBM.
The Comprehensive Tax Reform Program (CTRP), which President Ferdinand "Bongbong" Marcos Jr. identified as a top legislative priority during his first State of the Nation Address, had its final package introduced before the House of Representatives plenary on Wednesday.
House Bill 4339 would streamline the taxation of passive income, financial services, and transactions by reducing the number of tax rates from 83 to 58, according to Rep. Joey Sarte Salceda, chair of the House Ways and Means Committee.
"In addition to encouraging greater financial transactions and financial inclusion in the nation, this will greatly simplify tax administration, according to Salceda. "We will be able to finish the Comprehensive Tax Reform, one of the largest tax reform initiatives of any country in the world if we can approve this package as suggested."
He pointed out that Harvard University uses the nation's tax reform program as a case study for model reforms and best practices.
In addition to streamlining tax rates, this proposal harmonizes interest income tax rates and eventually lowers them from 20% to 15%.
According to data from the Bangko Sentral ng Pilipinas on the profile of depositors, the small savers—those with deposits of less than PHP15,000—who account for 79% of all deposit accounts in the nation—will gain from this, he claimed.
Additionally, the documentary stamp tax (DST) on certificates is to be eliminated by the proposal.
Birth certificates, degrees, transcripts of records, and National Bureau of Investigation (NBI) clearances are examples of typical work criteria that will no longer be subject to the DST.
Salceda stated, "for average Filipinos, we eliminate the DST on a number of documents typically necessary for visas, job applications, and other significant day-to-day transactions."
Certificates of profits or interest in real estate or accumulations, bank checks, drafts, certificates of deposit without interest, and other instruments, bills of exchange or drafts, the stamp tax on proxies used to cast ballots in any elections, powers of attorney, and certificates, such as diplomas, are among the documents that will no longer be subject to DST.
The measure suggests removing the 0.3 percent DST on local remittances for Filipinos who labor abroad.
"For instance, a remittance of PHP5,000 will no longer incur a PHP15 DST surcharge, "added he.
In addition, the measure reduces the tax rate on health maintenance organizations (HMO), pensions, and pre-need insurance products from a VAT of 13% to a premium tax of 2%. The revision also brings the rate into line with life insurance premiums.
The excise tax exemption for pickup trucks introduced by Republic Act 10963, often known as the Tax Reform for Acceleration and Inclusion (TRAIN) law, is eliminated as part of the bill's "clean-up" of the CTRP.
At least PHP12.4 billion in yearly incremental sales are anticipated as a result.
The measure calls for eliminating the foreign currency deposit interest income tax exemption.
Salceda stated, "As we now have sufficient gross international reserves and are no longer in a serious balance of payment crisis, it is no longer the policy of the State to attract foreign currency deposits."
***
We appreciate your reading. You may also consider sharing it with others.
Please comment below if you found this post interesting.
Be one of our
DONOR
/
SPONSOR
to support NextGenDay news website.
***
Please follow and like us: