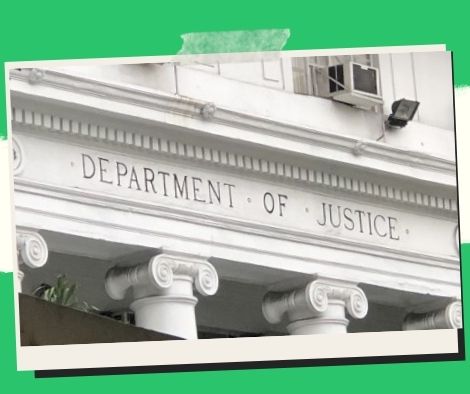 In a 'pastillas' scam, the Department of Justice fires 18 immigration officers.
MANILA, Philippines — The Department of Justice (DOJ) ordered the expulsion of 18 Bureau of Immigration (BI) officers and workers on Friday after they were found administratively accountable for the so-called "pastillas" bribery scam.
The 18 were found guilty of egregious misconduct, gross dereliction of duty, and conduct adverse to the best interests of the service, according to DOJ Assistant Secretary Neal Bainto.
"The administrative aspect is without prejudice to any later criminal or even civil culpability that may be filed and proven in another proper forum(s)," Bainto stated.
Francis Dennis Robles, Glen Ford Comia, Rodolfo Magbuhos Jr., Deon Carlo Albao, Danieve Binsol, Paul Erik Borja, Abdul Fahad Calaca, Anthony Lopez, Gabriel Ernest Estacio, Chevy Chase Naniong, Danilo Deudor, Ralph Ryan Garcia, Phol Villanueva, Fidel Mendoza, Bradford Allen So, Cecille Jonathan Orozco, and Erwin Ortaez were all ordered dismissed.
Two officials, Marc Red Marinas, and Grifton Medina were not among those investigated by the BI's Fact-Finding Investigation Committee (FFIC), which was formed to look into the organized protection scam, in which inbound foreigners, mostly Chinese, get around strict screening procedures in exchange for cash wrapped in pastillas, a milk-based soft candy.
"They have instead included in the Ombudsman case or the NBI (National Bureau of Investigation) complaint, both of which are before the Ombudsman," the DOJ stated.
The FFIC suggested that the 18 respondents be subjected to a formal administrative investigation, and after a formal charge and a formal hearing, all 18 respondents were held administratively guilty, according to the ruling.
In November 2020, President Rodrigo Duterte brought the suspects to Malacanang, where they were given paper money wrapped in pastilla wrappers to nibble on.
Out of respect for DOJ Secretary Menardo Guevarra, who was also present at the time, the President altered his mind.
The Anti-Graft and Corrupt Practices Act was violated by 43 BI executives and employees, according to the Ombudsman.
The bail for each person's temporary liberty was set at PHP90,000.
Please follow and like us: