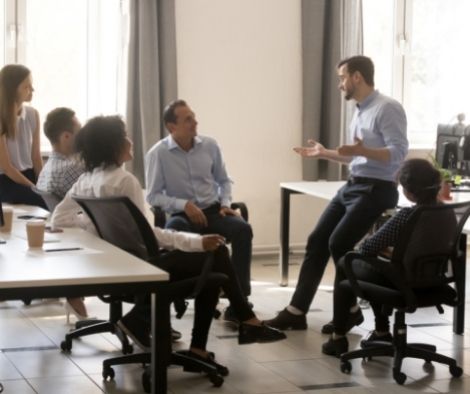 Job Opening: Quality Control Team Leader
Digital Marketing Company
Taguig City, Metro Manila
Hiring until July 27
Job Location: (Temporary Work From Home), Taguig City, Metro Manila, Philippines
Employment Type: Full-Time
Position Level: Supervisor
Work Schedule: Amenable to Any Shift
Job Category: Sales & Marketing
Vacancy: 3
Job Description
Job Summary:

The Quality Control Team Leader shall have the overall responsibility to oversee the Quality Control functions of the assigned team. This includes ensuring that the day-to-day activities and operations of the quality control team meets the requirements of external and internal clients. The role also includes managing the performance of the team members, leading and guiding them to meet all the defined performance measures and achieve high performance. This role also requires interaction with the operations, other support groups, and with the external client, providing support and assistance in areas of quality.

Duties and Responsibilities:

Management Systems
Understand and apply the organization's Management Systems (ISO 9001 & ISO 27001) and all its processes. This shall include establishing documents & records necessary in the scope of work.
Prepare for the annual certification & surveillance audit and ensure readiness of the team within the scope of responsibility.
Participate in the internal audit process. Identify nonconformities and areas for improvement, and provide recommendations in alignment with organizational practices and requirements of the international standards.
Quality Control
Manage quality control operations and ensure all orders will be delivered based on defined SLA through proper planning & headcount allocation.
Provide guidance to the quality control team members on the product requirements and QC methodology to ensure that they are able to perform quality checks properly and prevent releasing orders with errors.
Manage documentation and records of the team, and ensure that all required data are collected and analyzed.
Support in the conduct of time & motion studies. Analyze issues and gaps in productivity and provide recommendations as necessary.
Customer Management
Attend to both planned and emergency client calls, as necessary. Document discussion via minutes of the meeting. Accomplish required tasks, make a follow-through until matter has been closed. This may be delegated to the team leader, but a follow-through and overall management is the responsibility of the manager.
Monitor and record customer feedback, received in any form. Cascade this information to the team and through collaborative effort provide analysis and action items.
Prepare customer presentations, as required. This may be in the form of a report to be sent, or a presentation to be discussed during a meeting.
Create and manage customer data, reports, dashboards, as needed.
Manage client expectations and ensure that both stated and implied needs and requirements are met or exceeded.
Performance Management
Review on a daily basis the performance of direct reports on the basis of Accuracy, Productivity, Attendance & Behavior.
Perform coaching on his/her direct reports, and ensure that all team members are receiving coaching and mentoring from their team leads on a periodic basis.
Make a follow-through of coaching effectiveness, and take actions if necessary if previously defined actions are not effective.
Participate and conduct performance reviews based on the organization's defined process and frequency.
Apply or implement the organization's policies on performance management and Code of Discipline.
Continual Improvement, Projects & Initiatives
Lead or participate in a continual improvement initiative, which may be departmental or organizational level.
Support or lead in the closed-loop process. Addressing areas requiring actions or improvements.
Initiate a certain number of projects defined by the QM or Management. Work towards its successful completion within the defined time frame.
Perform analytical and statistical analysis, as a basis of action planning and decision making.
Use lean six sigma or other continual improvement framework as a tool for completing projects.
Qualifications
Educational Attainment: College Graduate
Min. Work Experience: 5 years
Qualification Summary
Job Specifications:
Graduate of any 4 or 5-year course with at least 3 years relevant experience in Quality, Quality Management, Quality Control, Quality Assurance.
Experience from a BPO or Manufacturing setup organization
Willing to work on any schedule – day shift, mid-shift, night shift, including extended hours.
Willing to work during rest days and holidays Skills and qualifications:
Skills in Microsoft Excel, Google Sheets, and Microsoft Office
Ability to create and deliver powerful and engaging presentations
Knowledge of Problem Solving Techniques and Methodologies
Lean Six Sigma knowledge and experience, an advantage
With Previous Supervisory or Team Handling experience, an advantage Soft skills:
Ability to communicate effectively, both written and verbal
A team player who supports the building of a collaborative team environment
A strong and effective leader, displaying high integrity, inspiring and motivating team members to high performance
Has the ability to manage time and resources effectively
Agile, adaptable, and flexible, with the ability to respond to changes